Print this page
Guidelines for Campus Departments
How To Order
Follow these steps when placing an order for merchandise bearing University of Missouri trademarks:
Choose an approved vendor from the list of licensed vendors for campus use. If you are having a unique product produced and it can't be produced by an existing licensed vendor, please email licensing@missouri.edu.
Review Mizzou identity standards and the Design Guidelines for Merchandise to ensure that any design created follows the guidelines set forth by the university.
Work with the licensed vendor to select product and develop a design. The licensed vendor will submit a Product Request Form and art to the Licensing & Trademarks Office for approval. The Licensing & Trademarks Office will communicate with the licensed vendor regarding any changes that need to be made before the order is filled.
Design Guidelines
MU Health Care follows different guidelines for branded apparel, please access them here.
The stacked MU, tiger spirit marks (athletic logo and spirit tiger head) and Truman the Tiger mascot mark will be approved for use. Fonts associated with Athletics are reserved for use by the Athletics department only and their approved sponsors.
Use of an official unit signature (or merchandise mark) is required. Log into Box to download your approved unit signature.
The logos cannot be altered, tampered with, modified, incorporated into other marks, or overprinted with other words or design elements.
Schools, Colleges and Departments names should be separate and apart from sponsors' names and logos.
Use of a current student athlete's name on commercial merchandise is a violation of NCAA rules and may result in the student athlete being declared ineligible. Any use of a student athlete's name, nickname, or picture must be approved by the MU Compliance Office.
Design cannot use trademarks from other entities or derivatives of those marks.
No use of the university's name or logo may be approved in connection with promotion of alcohol, tobacco or other drugs or in connection with pornography or other forms of expression limited by law.
The design of apparel and certain promotional products must be specific to the School/College/Dept. and/or event in order to limit commercial appeal and minimize the cannibalism of the existing retail market.
Have questions, or need help? Email identity@missouri.edu.
Separate and Apart
Separate and Apart refers to the practice of keeping protected marks away from conflicting marks and/or names to preserve MU's trademarks and uphold a clear visual identity system. On promotional and internal goods, approved university and unit signatures are required. The university and unit signature must be kept separate and apart from any other graphics.
Adherence to this rule requires that an item have two different imprint locations or allow for enough clear space so as to protect the marks. Items with only one imprint area (e.g. keychains, pens, etc.) must include a university or unit signature, but cannot include both a unit/university name and a graphic.
Merchandise Marks and Small Imprints
A merchandise mark is an alternate version of a unit signature, for use on internal and promotional goods with restrictive imprint requirements. The proportional relationship between the stacked MU logo and the unit name is adjusted, and the university wordmark is removed.
Unit names may also be simplified as appropriate. These marks are intended for use only when a standard unit signature cannot be reproduced effectively due to size or application restrictions.
To avoid confusion and misuse, merchandise marks are not provided to campus units. Licensees who feel that a merchandise mark is necessary should submit a request, including item imprint specifications, to identity@missouri.edu. Licensees may not alter unit signature artwork — only original files provided by the Division of Marketing & Communications are acceptable for use.
Some items have extra-small imprint areas that will not accommodate either a standard unit signature or a merchandise mark (e.g. writing pens, lapel pins, USB drives, etc.). The stacked MU may be used without text on these items, but royalties may apply to internal and promotional goods. Alternatively, the university or unit name may be used without the stacked MU logo.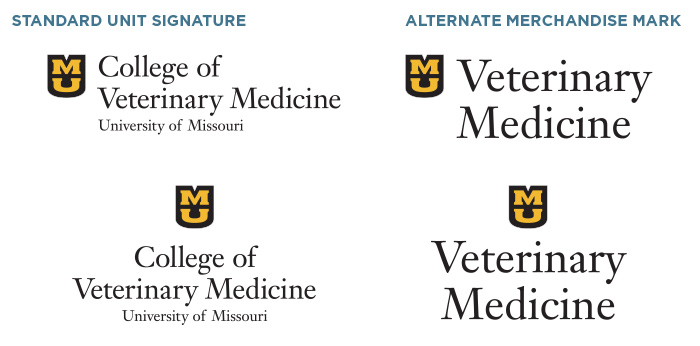 Helpful tools
Design Guidelines for Merchandise
Internal Request Quick Reference
Access to University Logos and Unit Signatures
(Log in using your paw print)